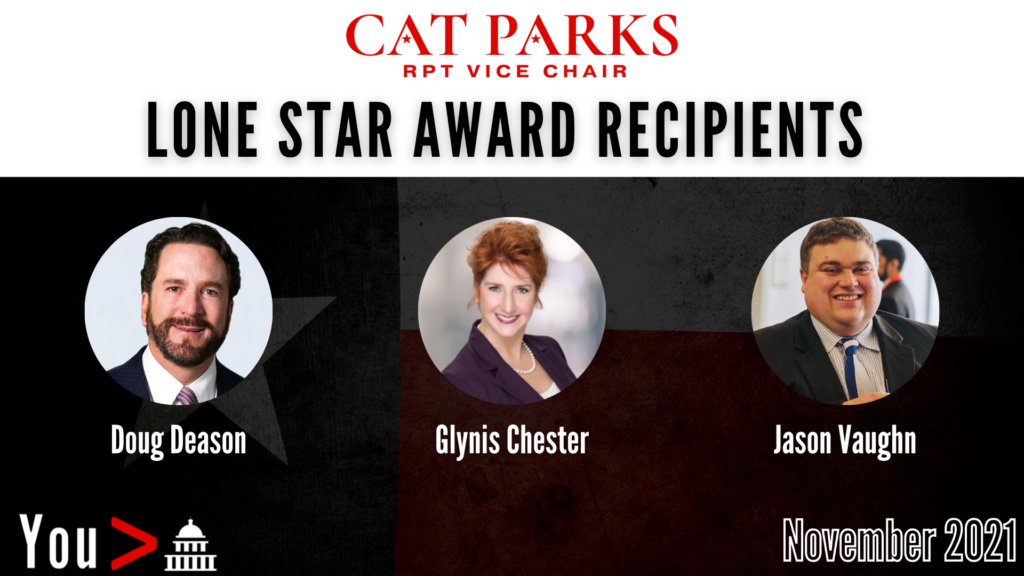 Doug Deason – Since 2015, Doug has been working with the Texas Public Policy Foundation to bring out real, meaningful criminal justice reform in Texas. Through his work, he was able to convince the Texas Legislature to give first-time criminal offenders a second chance through legislation that would allow these individuals to ask the court to seal their records if they remained crime-free. More recently, Doug's influence and charitable giving was instrumental in the passage of the First Step Act under the Trump Administration in 2018. The establishment of the Deason Center in the Dedman School of Law at SMU adds to the list of Doug's significant achievements. The work done at the Deason Center has already begun to improve the criminal justice system by providing new research, effective policy solutions, and lawyers equipped with the knowledge and skills to reform the system. He has served as the Vice Chairman of Finance of the Dallas County Republican Party for two years and as the Executive Committee and Membership Chair for the West Texas Chapter of the Young Presidents Organization.
Glynnis Chester is the President of Texas Federation of Republican Women – a volunteer army unmatched by any other women's organization. Under Chester's leadership, TFRW has experienced unprecedented growth and success, chartering 21 new clubs and breaking the previous membership record by adding 4,600 new members to exceed the 11,500 member mark. Her membership emphasis includes marketing materials and training to equip and empower their ladies to effectively engage at all levels. She has also prioritized the recruitment of female candidates to safeguard Texas's future. Glynnis Chester is a true champion of Texas Republicans, and a force that will be key to keeping Texas red for years to come.
Jason Vaughn – Jason most recently served as Policy Director for Texas Young Republicans Federation and was named their 2020 "Man of the Year". From 2020 to 2021 he raised over $200,000 for the Young Republicans war chest, and put on the record breaking 2021 YR Legislative Dinner. He has set the example on how to effectively advocate, how to not only get in the door but how to make your voice heard and how to convey your message so that it is understood and thoughtfully considered. That has translated into sustainable success for the YR organization. Jason has earned the respect of elected officials, staffers, and other advocates from around the state with his boundless optimism and a unique ability to persuade, all with a contagious charm.