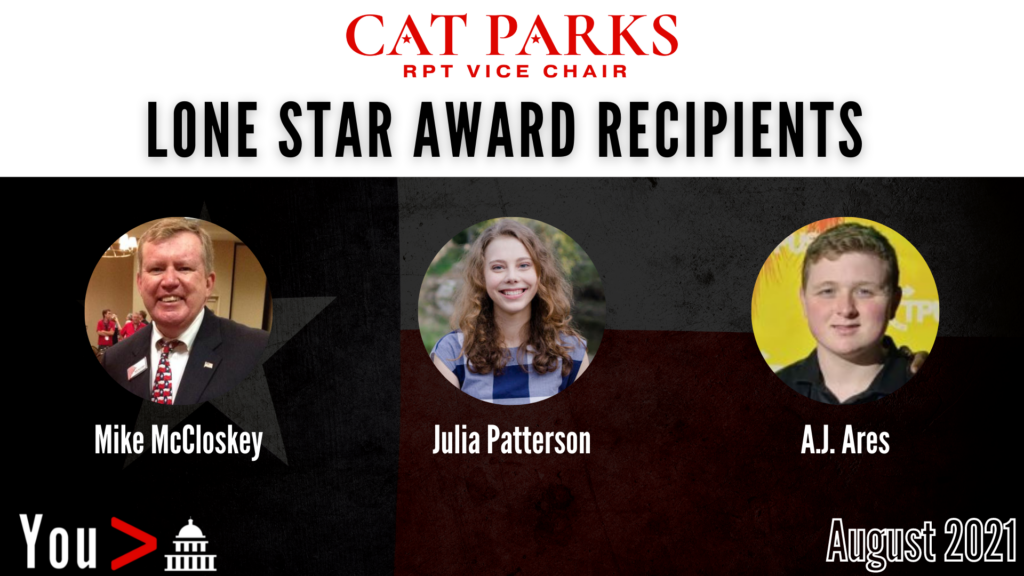 Mike McCloskey – Victory! Three bills protecting religious freedom were signed by Governor Abbott on July 9, 2021. This effort first originated with a small group at the Williamson County Cowboy Church who looked to Mike McCloskey for guidance to make it happen. They brought their concerns to the State Convention where they became a legislative priority of Republicans. Together, the three bills ensure that religious services in our state are not interrupted by State and Local governments. Mike was invited to attend the signing ceremony for these bills protecting religious freedoms. Mike formerly served six years as Senate Republican Executive Committeeman (SREC) for Senate District 5. He is very active in Williamson County, across Texas, and Nationally working to promote Republican candidates and ideals. McCloskey says of the religious freedom bills, "This demonstrates that through cordiality and cooperation much can be accomplished." He also believes the signing of these bills is a "Great Day for the people of Texas!"
Julia Patterson – Julia Patterson is one of the youngest persons, 18 years old, to lobby the Texas legislature! What is her story? One morning she woke up a perfectly normal, happy kindergartener, but by that night she had been life-flighted to Houston, admitted to the hospital, and on a ventilator. This began her 10 year battle with epilepsy. She averaged 200 seizures a day. Medications, implants, brain surgery, special diets all failed to help her. She then joined the Compassionate Care Program and tried medical marijuana. On the tiniest dose, her seizures stopped, she resumed a normal life, became valedictorian of her graduating class, and has now been accepted into the Honors Program at Texas A&M. In an effort to help others she took her story to the Texas Capitol in 2019 and 2021. This past session her advocacy helped carry a bill regarding expansion of the Compassionate Use Program to passage and Governor Abbott recently signed it into Law. She delights that her story could help make a difference for hundreds of others. She is a political science major and a strong Republican; we will be hearing more from this sweet and beautiful young lady in the near future!
A.J. Ares – AJ Ares is a Llano ISD high school student who tired of the liberal ideologies and opinions he was hearing in the classroom and decided to counteract those messages. He was denied his request to organize a high school Republican club, but he did not take no for an answer. AJ worked with local Republican groups, surveyed his high school peers and utilized legal advice to fight the system. With 20% of students supporting him in writing and help from Turning Point USA, AJ conquered multiple hurdles and endured a long process to organize the Llano High School TPUSA Chapter. AJ is a leader among his peers, attends various conservative leadership camps and summits and shares his experiences to help other people better organize in difficult circumstances. This young man fought a system of adults to follow conservative principles and values. He is an example is his community and across the state.
For more info:
https://www.thecollegefix.com/student-activist-gets-approval-for-turning-point-usa-group-after-pushing-back-against-administration